Seaside Heights

 Disorderly Conduct Lawyer

Are you or your teenage or young adult child facing Disorderly Conduct charges? Jersey Shore and Rutgers areas towns issue hundreds of Disorderly Conduct charges each year. Towns that draw a lot of tourists, bar goers, concert attendees, and that offer plenty of places to eat, drink, and be merry are the towns that make the most disorderly conduct arrests. Seaside Heights, Point Pleasant, Asbury Park and Belmar have a large seasonal disparity in disorderly conduct arrests with the vast majority of them taking place during the summer months when their vibrant, popular boardwalk scenes are in full swing. Additionally, Holmdel issues its fair share of the charges as State and local police are always on the lookout for criminal behavior during concerts at the PNC Bank Arts Center. Rutgers and Monmouth University towns that include New Brunswick, Piscataway, Long Branch, West Long Branch and Ocean Township also predictably process a large number of Disorderly Conduct charges.
Belmar Disorderly Conduct Lawyer
As you can probably imagine, Disorderly Conduct offenses are usually alcohol related and can be charged as a result of intoxication, fighting or threatening behavior, and public noisy or rude behavior. The stakes are often raised because the offense is often accompanied by "companion charges." These can include simple assault, aggravated assault, marijuana possession, resisting arrest, lewdness, domestic violence, harassment and terroristic threats. The charge is also made more severe when minors are involved, leading to companion charges such as supplying alcohol to minors, public intoxication, and display of false identification.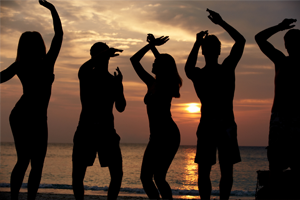 New Brunswick Disorderly Conduct Lawyer
If convicted of disorderly conduct, it will be discoverable on your permanent record. This can negatively impact employment and educational opportunities. This is especially difficult for the common juvenile or young adult offenders who plan on applying to colleges, grad schools, internships, and employment in the near future. Short-term consequences are severe and include mandatory probation, community service, and even incarceration in county jail. With offices in Monmouth, Ocean, and Middlesex Counties, McGuckin Law has handled a wide array of disorderly conduct and companion charges. These municipalities include Manasquan, Ship Bottom, Toms River, Beach Haven, Red Bank, Middletown, Brick, and Seaside Park.
At McGuckin Law, we scrutinize the evidence that the State will use to convict you or your child of the offense. While fighting the case factually, we will also work closely with the municipal prosecutor to secure a dismissal or downgrade. For more information on the charge or a free consultation with an experienced Disorderly Conduct attorney, call us anytime at 732.924.4200.
N.J.S.A. 2C:33-2: New Jersey Disorderly Conduct Law
New Jersey's Disorderly Conduct statute is intentionally broad and vague and may apply to many behaviors and acts. The oft-referred "catch-all" statute reads as follows:
Improper behavior. A person is guilty of a petty disorderly persons offense, if with purpose to cause public inconvenience, annoyance or alarm, or recklessly create a risk thereof he or she:
(1) Engages in fighting or threatening, or in violent or tumultuous behavior; or
(2) Creates a hazardous or physically dangerous condition by any act which serves no legitimate purpose of the actor.
Offensive language. A person is guilty of a petty disorderly persons offense if, in a public place, and with purpose to offend the sensibilities of a hearer or in reckless disregard of the probability of doing so, he addresses unreasonably loud and offensively coarse or abusive language, given the circumstances of the person present and the setting of the utterance, to any person present.
 Asbury Park Disorderly Conduct Defense Lawyers
As a petty disorderly offense, Disorderly Conduct carries up to 30 days in county jail. McGuckin Law will work with you to achieve the best possible outcome. Additionally, you will remain informed throughout the process and will be given your attorney's direct cell phone number for maximum accountability and accessibility. Thank you for visiting McGuckin Law.