Toms River NJ

 Shoplifting Attorney

Ocean County has a large retail presence. Major stores, supermarkets, and chains, such Wal-Mart, Target, the Ocean County Mall, Shop Rite, Jackson Outlets, and Stop & Shop, among countless other shops, convenience stores and pharmacies, in addition to a sizable population, contribute to the large number of shoplifting arrests and charges that take place in the county every year. McGuckin Law assists individuals facing shoplifting charges throughout the county, including Toms River, Stafford Township, Jackson, Lacey Township, Brick, Barnegat, and Little Egg Harbor. If you or your loved one is facing shoplifting charges, contact us at 732.924.4200 today to speak with an experienced, local criminal defense attorney.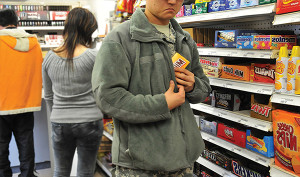 Jackson NJ Shoplifting Attorney
Many people think that in order to be arrested, charged, and ultimately convicted of shoplifting, one must leave a place of business with merchandise that was taken from the store without payment. While true, there are actually SEVEN types of acts that can lead to a shoplifting arrest. These include:
Carrying away or transferring merchandise from a store with intent to deprive the merchant of possession.
Purposeful concealment of merchandise with the intention of depriving the merchant of possession.
Altering or changing price tags.
Moving merchandise from one container to another with the intent of depriving the merchant of the full price.
Under-ringing merchandise.
Removing a shopping cart from the premises.
In-store use or possession of anti-shoplifting or inventory control device.
As you can see, merely moving or concealing merchandise within a store can lead to shoplifting charges. Furthermore, New Jersey municipal and county prosecutors have become increasingly aggressive in the prosecution of shoplifting cases in recent years.
Ocean County Shoplifting Penalties
The penalties for shoplifting in New Jersey are severe and increase in severity with the overall cost of the alleged shoplifted goods. In addition to the criminal charges that you face, you may also be civilly liable to the merchant and compelled to pay a civil penalty that may range up to $150. If you are a first time shoplifting offender then the following penalties may apply to your case:
If the total combined value of the merchandise is less than $200, then you face a disorderly persons offense, up to six months in jail, and a fine of up to $1000.
If the total combined value of the merchandise is $200-$499, then you face a fourth degree indictable offense, up to eighteen months in jail, and a fine of up to $10,000 (Many such offenses will be remanded to municipal court).
If the total combined value of the merchandise is $5000-$74,999, then you face a third degree indictable offense, 3-5 years incarceration, and a fine up to $15,000.
If the total combined value of the merchandise is over $75,000, the you face a second degree indictable offense, 5-10 years incarceration, and a fine up to $150,000.
In addition to the aforementioned penalties for first offense shoplifting charges, you should be aware that second, third, or subsequent shoplifting convictions carry enhanced penalties that may include mandatory jail time. Therefore, it is in your best interest to consult a skilled and experienced attorney if you are facing shoplifting charges.
Stafford Township Shoplifting Attorney
There are various ways to fight and beat Ocean County Shoplifting charges. First, it is of paramount importance to request any and all evidence, called discovery, that the State intends to use to prosecute you. You are entitled to all of it. Discovery includes:
Statements made by you
Statement made by the store's Loss Prevention Officer (LPO)
Police Report
Witness Statements
Video Surveillance
In order to successfully convict you of shoplifting, the store representative, LPO, must show up at court on the day of your hearing as the complaining witness. Many times, the LPO does not show up and we are able to make a motion to dismiss. Additionally, the store often fails to provide all pertinent discovery and we files motions to dismiss or suppressed based upon lack of discovery. Finally, we are often able to work with te prosecution to secure your admittance into a diversionary program such as Pre-Trial Intervention or Conditional Dismissal. For more information on how we will fight for you, call our local office or visit our Ocean County Theft and Fraud Resource Center.
Protect Your Rights. Call McGuckin Law.
McGuckin Law will take your shoplifting charges very seriously. We understand that there are often external factors that contribute to shoplifting charges such as simple mistake, mental illness, depression, etc. Whether your case is scheduled in municipal court or Ocean County Superior Court, we are prepared to fight for you. Call us any time, at 732.924.4200, including nights and weekends, for a free consultation.